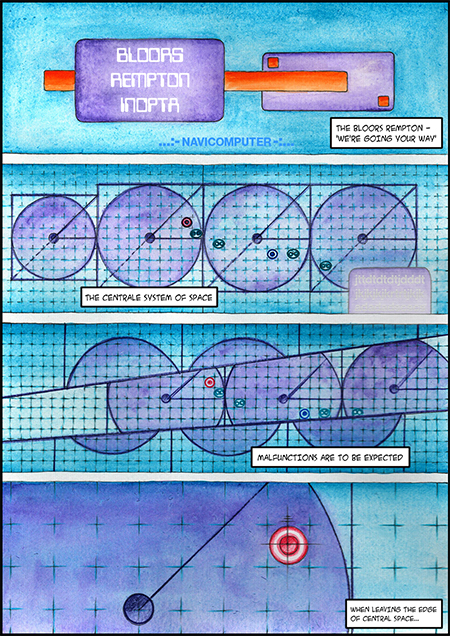 Ah, the NAVICOMPUTER – a mainstay in any spaceship's technological array.
The Bloors Rempton Inopta is fairly standard offering throughout the universe but as with most things these days, its the software updates that keep it current. By current, I mean ahead of any competition.
The Bloors is just one of many machine/software devices or interfaces that come under the jurisdiction of 'The Ship's Computer'. 'The Ship's Computer' in our case is Schrödinger. Schrödinger is an Artificial Intelligence or AI. Schrödinger is also a cat.
It is cats that have tended toward this line of business as their evolution as a superior being lends itself perfectly to this. I mean, could you imagine a dog running things? Exactly, they may well think they are but that's as far as it goes…
Max has chosen a blue contrast 'skin' to the NAVICOMPUTER as he plots he way through space but he could change it at the touch of a screen. There are an infinite variety of options but Max likes to keep things simple.
Astrogation never seemed so easy! But that's AI for you. Or more precisely; cats…
Peace and webcomics
rp