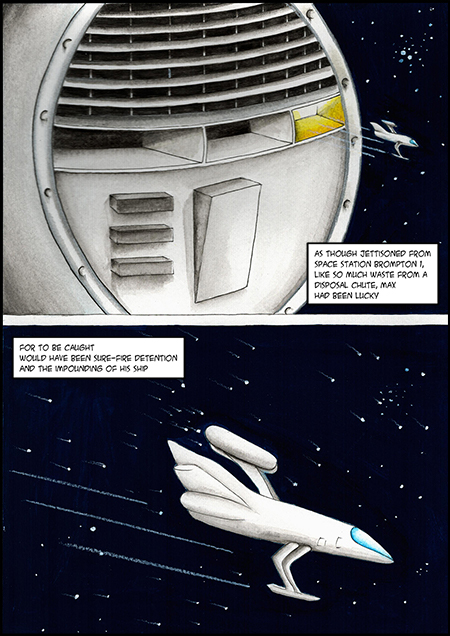 So, not just a case of 'Ladies and Gentlemen we are floating in space'. Max is seemingly on his way purposefully, to somewhere! And anywhere seems preferable at this moment in time.
Space Station Brompton 1 is the first of the Space Stations (no there aren't specifically 5 with the first four mysteriously having had things happen to them. Although there's a plot idea!). It is a Level 3 Space Station (that's to say a smallish structure), set in the Intero system. I'll expound more about the systems later, as the story develops.
So, from the safety of a Level 3 Space Station, with all the comforts of a home, his consignment loaded, Max checks the ship's computer
"Schrödinger, confirm clearance code for Space Station Brompton 1 departure".
"Departure code AV-iN-@L@-UGI-I confirmed from BISCORP".
"So, the problem is?".
"Brompton 1 security detain procedure in effect".
"Detain? Sounds serious".
"It is!".
"Then get us out of here, now!".
Without a clue as to why has to leave (with his tail between his legs)
Ejected from, max is.
Peace and webcomics
rp