Destination Star Trek – we boldly went
We went to Destination Star Trek at the NEC, in Birmingham. I'd booked the tickets a while back and was avidly watching the website for updates of who would be attending. We are currently watching Star Trek: The Next Generation starting at Season 1, Episode 1 and we're currently up to Season 5, Episode 5 so anybody from that series would make it a little bit special.
That's the Ticket
We only bought the basic tickets so no wining & dining on Champagne & Vegetarian Caviar, with the stars, in in 7 Star Hotel for us. It was a cheap day out (Hah! No such thing). The tickets were arranged in tiers; Lieutenant, Commander, Captain, Admiral VIP, each in increasing splendidness (and cost). I think we went for Janitor!
We set off early, well early for us and the weather was diabolical. It was like we passed through an ion storm field in the Gamma Quadrant. It poured with rain all the way up there and as a consequence, took longer than anticipated.
Arrival
We arrived at the NEC, that ofttimes epicentre of geek. We were later than we had planned. In the car park there were cars but no people! Had everyone been transported to the Enterprise? Had some alien race attacked and annihilated them all? Did some virus make them all invisible? No, it was raining, we were late, they were all inside enjoying the spectacle.
We went to walk but weren't sure of the direction to go so waited for the shuttle bus but it didn't seem to be coming so set to walk but the shuttle bus turned up. We thought we might as well get our money's worth and mere minutes later, we arrived, disembarked and entered the NEC Complex.
Star Trek after all these years is still a big thing but it didn't take over all of the Complex. We had to find the rooms allocated but it didn't take long, following people, milling about in Star Trek shirts, dresses and as we approached. This was the place. We'd made it!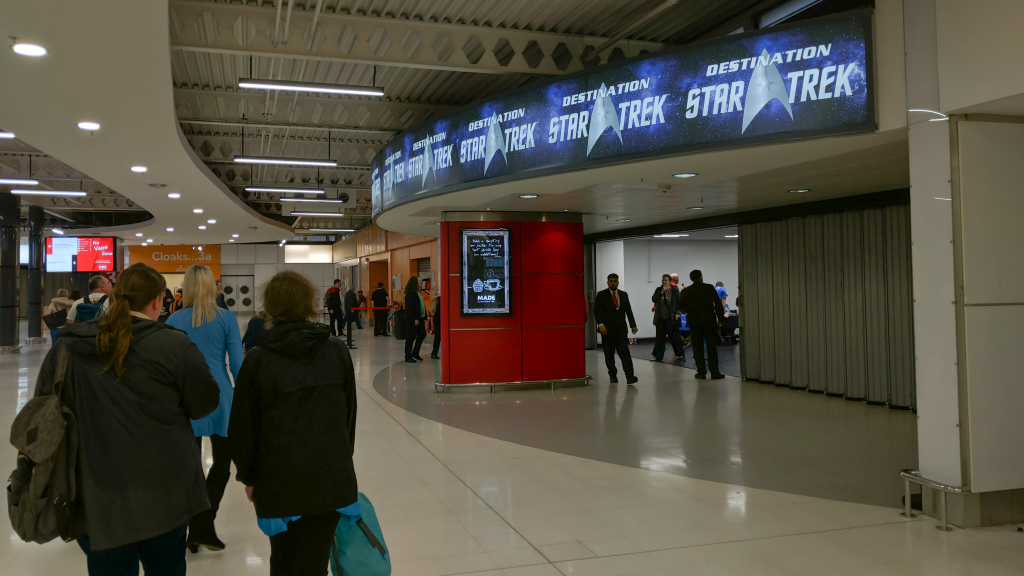 Destination Star Trek – Part 1
Peace and webcomics
rp